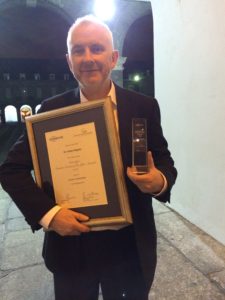 Principal Dental Surgeon Dr Aidan Higgins. Upon graduating from dental school Aidan went to work in London and the south-east of England where he practised for 11 years. He assisted in setting up Dentaline the first on-call hospital dental emergency service in London and the south-east of England in 1991. This service is still currently in operation. His post-grad education involved periods of study at the Eastman dental Institute on Grays Inn Road, London.
Aidan returned to Ireland in 2000 and set up his own dental practice in O'Connell Avenue, Limerick in 2002 where he stayed until 2014. At this time he moved to a fully refurbished state-of-the art dental practice at 5 County View Terrace, Ballinacurra, where he now operates out of a three surgery practice with his dental team.
Aidan has received awards from Adi Roche and the Childrens Chernobyl project for his voluntary work treating over 200 children who presented with critical and advanced dental disease. Aidan was also awarded Sensodyne Munster dentist of the year in 2014 and again in 2016 and we were finalists as a practice for Sensodyne Irish dental practice of the year in 2016.