Sensodyne Award Winning Dentist Limerick 2014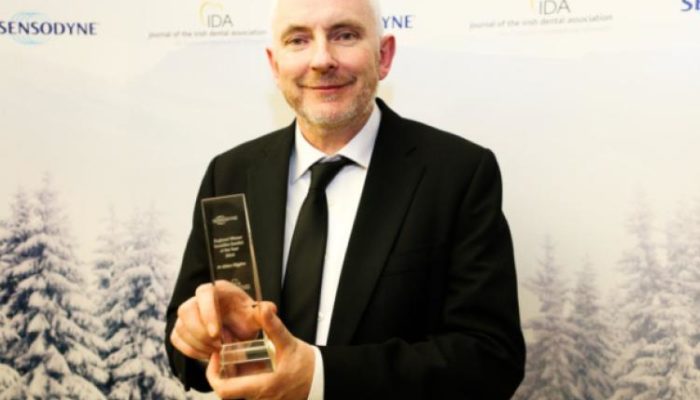 A Limerick dentist who helped a woman overcome her "dental phobia" has been named as the Munster Sensodyne Sensitive Dentist of the Year 2014.
Dr Aidan Higgins, whose practice Veronadental Clinic is based at O'Connell Avenue, was nominated by patient Alice Myers, who said that she had neglected her dental health for most of her adult life due to a serious fear of dentists.
"Even when I chipped my front tooth I still refused to go for treatment. My phobia was greater than the pain. "But when I got an abscess I could not avoid it anymore. I cried in pain for three days until eventually my brother forced me to visit his dentist, Aidan Higgins and that was a turning point in my life."
"From the very first moment I entered his office, Aidan and his team did everything in their power to put me at ease and calm me down. Nothing was too much trouble. The patience and understanding shown to me was absolutely outstanding. I now actually look forward to my visits," she wrote in her nomination. Dr Higgins was presented with his award at a gala event at Royal Hospital Kilmainham in Dublin on Saturday night. Established 12 years ago, his practice is based at 1 Verona Villas, O'Connell Avenue. Dr James Turner who detected throat cancer in one of his patients won the Leinster region award. as well as the overall title of Sensodyne Sensitive Dentist of the Year 2014.
The Sensodyne Sensitive Dentist of the Year awards invites patients to nominate their dentist if they believe they have gone above and beyond normal patient care. This year, the awards, which are supported by Sensodyne and the Journal of the Irish Dental Association, received over 1,000 nominations. Eils Tobin, marketing manager for Oral Care, GlaxoSmithKline, parent company of Sensodyne, said since they started the awards programme in 2008 they have received "thousands of wonderful stories about dentists and the care they have provided for their patients. "Not alone has it worked but it has gone from strength to strength and we look forward to supporting this awards programme for many years to come," said Ms Tobin.
Article by Limerick Leader 14th December 2014