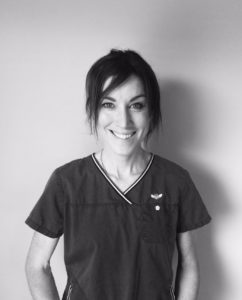 Dr. Lisa McElroy graduated from University College Cork in 2002. She worked in general practice in London, Dublin and Sydney. In Australia she also worked in satellite clinics and in Maronndah Hospital in Melbourne and also Redcliffe and Caboolture hospital in Brisbane.
She then returned to the UK and worked as a senior house officer in Maxillo Facial Surgery at the William Harvey Hospital, Ashford, Queen of Elizabeth Hospital Margate and Kent and Canterbury Hospital, Canterbury. She was awarded Membership of the Faculty of General Dental Practice UK (MFDS) in 2007 and Membersip of the Faculty of Dental Surgery (MJDF) in 2008.
In 2007, she returned to Dublin and took a post working as public dental surgeon with the HSE. During this period she gained invaluable paediatric experience and attended adults in nursing homes, special care facilities and hospitals. Also, during this period she obtained the Postgraduate Diploma in Clinical Dentistry in Trinity College Dublin in 2012. She currently has been accepted to Dublin Dental Hospital for the Masters in Clinical Dentistry.
Throughout her career to date, Lisa has worked in many different environments and has a broad spectrum of clinical experience. Lisa finds caring for nervous patients particularly rewarding, being able to see their confidence grow on the journey to good oral health.
Personally, Lisa enjoys keeping fit, supporting Munster rugby and GAA. She enjoys art and whilst in Dublin completed a certificate in Visual Arts Practice in National College of Art and Design (2016) and recently completed a ceramics course in Limerick College of further education.